The Asian Human Rights Commission (AHRC) has received information that a conscripted young man who objected to military service based on his conscience on 27 July 2008, received an order four times to join in order to disperse protestors, which he has refused. Based on this fact, the prosecutor who pleaded for an arrest warrant with detention, which was earlier dismissed, has again pleaded for it and the detention of the young man has been decided.
CASE DETAILS: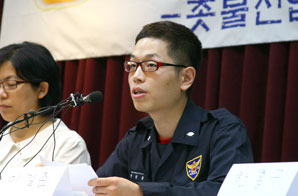 Mr. Lee Gil-jun, 24 years old, held a press conference at 7pm on 27 July 2008 and declared that he objected serving as an auxiliary police - a type of duty of national defense. He received a special holiday for three days due to his duty to suppress people taking part in the candlelit rallies.
He claims in his statement that he received orders from his commander to hit protestors with the shield and batons, in order to disperse them during recent ongoing protest. He had to return to Jung Lang Police Station, Seoul at 8pm on July 25 but instead he held a sit-in protest. On July 31, he voluntarily returned to the police station with thoughts that even though he violated the current law he had made this decision from his conscience.
When the prosecutor's office pleaded for an arrest warrant with detention, charging him with not returning to the police on time and for defamation, a court decided not to issue an arrest warrant without detention based on the fact that there is no worry of him running away or destruction of evidence. After the court decision, he was forced to return to the police station on August 2.
Then at the police station, knowing Mr. Lee objected military service based on his conscious, his commander ordered him to join with his colleagues to disperse people holding assemblies. The commander asked him to follow the order in a serious tone four times but Mr. Lee repeatedly refused the order. Based on this fact the prosecutor once again pleaded for an arrest warrant with detention from a court on August 5, after adding one more charge of his disobeying order.
On August 8, the court issued an arrest warrant with detention saying that Mr. Lee has refused to follow the order from his commander and there is a concern of repetition of the offence. It also added that there is also concern on his running away in the light of his repetition of disobeying an order.
Unofficial translated version
[Declaration of Conscience] I Resist!
July 27th 2008 / Lee Gil-jun
I, a conscripted policeman on active service, declare a conscientious objection to the military, and refuse to rejoin my unit. It was definitely not an easy decision. It was difficult for me to imagine all the pain and suffering it would bring, especially what my parents would have to go through. But here I am, still screaming resistance. It all sounds quite serious. But I'm not doing this to serve a greater cause. I'm just going through a process of finding myself, and trying to have a voice in my own life.
Yes. Resistance, to me, is a way to lead my life with my own subjectivity. Listening to your inner voice, having the values you believe to be right, adding colors to enrich your life and co-existing with others in harmony are all things that would be meaningful to just about anyone. And in the process, if something should suppress your life, you face it and resist it. That, I believe, is the way to live your life with passion. So now, I shed my old self, the one who has adapted to the ways of suppression, and move on to find myself through resistance.
This past February, I enrolled in the army as a conscripted policeman. I understand the many criticisms about this decision, especially regarding the actions I'm taking now. Although I oppose the idea of compulsory military service, if I had to serve my own society, I wanted to do something that is truly meaningful to society and myself. After giving it much thought, the path I chose was to join the conscripted police. But it turned out to be far different from what I had expected. Some people might criticize me and say I'm not being responsible for my own decision, but I don't think that takes away my right to object to unjust orders.